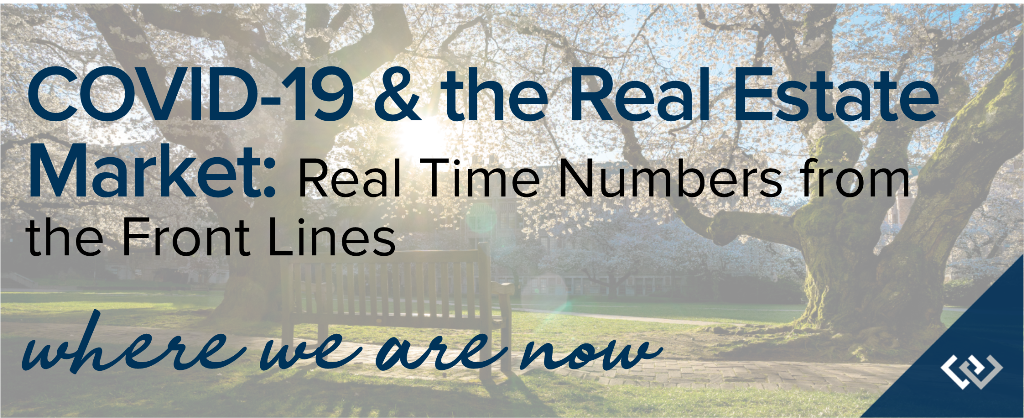 Will COVID-19 Impact Where People Want to Live?
Recently, Matthew Gardner, Windermere's Chief Economist released a video about the effects COVID-19 is having and/or could have on consumer tendencies in real estate. There seems to be quite the paradigm shift happening due to health reasons, appreciating simpler schedules, and the new phenomenon of many people working from home. Along with Matthew, Leading Real Estate Companies of the World and Keeping Current Matters are reporting similar indicators due to COVID 19.
The Flight to the Suburbs: Many buyers are listing more open space and less density as one of their top features when looking for a new home. The larger yards and separation from neighbors found in the suburbs versus urban areas are appealing for health reasons, due to the need to socially distance. Higher density buildings and townhouses found in-city were more appealing due to shorter commute times, but the newfound option to work from home has encouraged some buyers to venture out and consider commute times as less of a factor when choosing where they want to live.
Many high-tech employers such as Amazon, Google, and Facebook have extended the work-from-home option until the end of 2020 despite the phasing to get businesses re-opened. Companies like Twitter told some employees they could work from home indefinitely. This will have some buyers in these types of jobs capitalizing on suburban living, which is typically less expensive than in-city living and includes larger homes and yards. Look at the weekly stats for both King and Snohomish counties below. This compares the number of pending sales per week this year versus the same week last year, and the more suburban and affordable area of Snohomish County is thriving!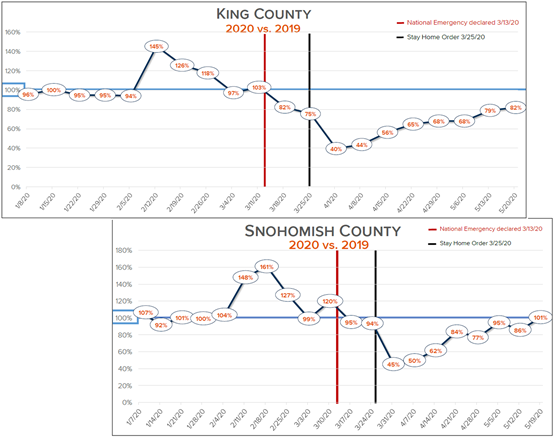 Return of the McMansion: Millennials had already begun looking at the suburbs as they embarked on crossing the threshold of big life events such as getting married and starting a family. Now, with more people working from home and desiring more space, the larger square footage homes are becoming more appealing.
This affords more flex spaces for at-home offices, especially if more than one adult is working from home. Space to enjoy hobbies and passions such as an in-home yoga or craft studio or in-home gym are predicted to be popular. Further, private outdoor spaces are a hit, such as fire pits, play areas for children, and outdoor entertaining space which encourages recreation and distancing.
Second-Home Market Boom: With air travel severely reduced, the desire to have a second home within driving distance has increased. Many people's commitments have simplified and their dreams have shifted to accommodate more down-time closer to home. The change of scenery a lake, beach, or mountain property provides along with space to distance is quickly becoming in-demand. The use of homes like this versus large travel budgets could make a comeback, especially if future rental income is considered. Overall, we have seen an increased value put on local access to nature to decompress and down-shift.
Single-Family Residential Rentals vs. Apartment Rentals: Again this comes back to density versus open space. Renters also desire more room, and some are also working from home, so they may opt for a single-family home over an apartment building with shared space. There could also be a push for college students to prefer renting a single-family home instead of living in a dorm, increasing the rental value of such investment properties in college towns.
Check out the video below to hear Matthew's entire take on all of these possible changes in how and where we want to live based on COVID 19 and the life lessons were are learning as we navigate this new way of life. What I can tell you is that the real estate market is moving! Activity has seen a large uptick since the first of May, and in many areas and price points we are lacking available inventory to meet the buyer demand.
If you are curious how these new trends and the state of current real estate market relates to your personal needs and dreams, please reach out. It is my goal to help keep my clients informed and empower storing decisions, especially during these unique times. Be well!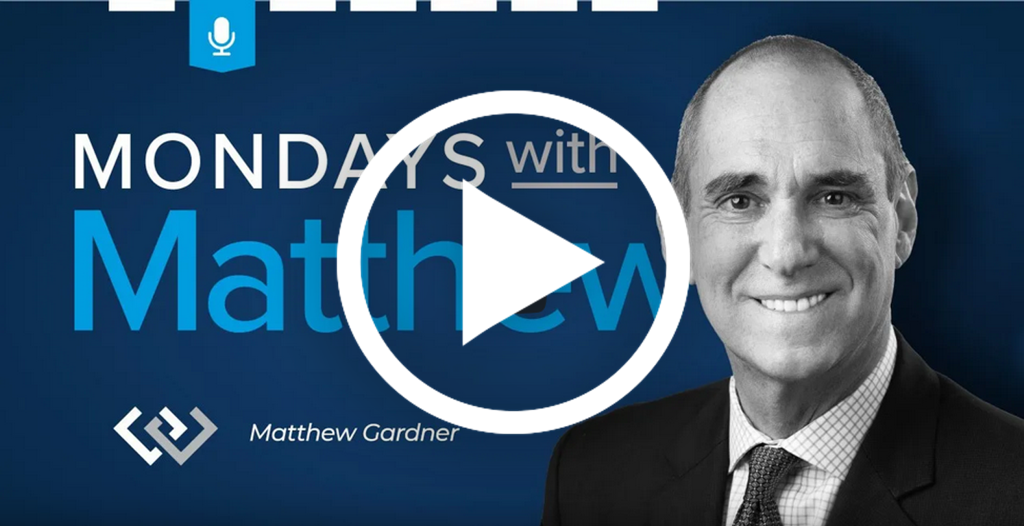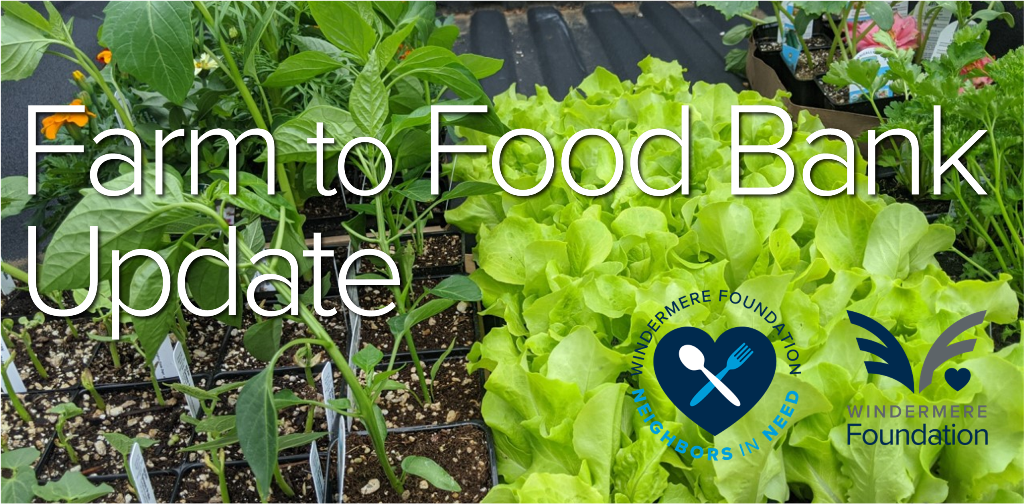 I am excited to share some updates from the Martha Perry Veggie Garden in Snohomish, WA! We have already purchased the vegetable starts to help support the Snohomish Garden Club, and have begun planting for the harvest. My office is working in socially distant groups, broken up by nine groups working over three weeks to get this acre of produce in the ground. By using starts instead of seeds we will be able to provide the harvest sooner and for longer throughout the season.
This is all possible thanks to your generosity! Our office raised $8,000 in under two weeks to benefit local food banks through our Neighbors in Need Program powered by the Windermere Foundation. A portion of that money was earmarked for this garden project and replaced our annual Community Service Day project that was done for the last four years in a large group of 50 people. This will provide local food banks with thousands of pounds of fresh produce throughout the summer and early fall and will be especially meaningful during this challenging time. Check out some of our first groups getting to work, making it possible for those in need to enjoy fresh produce instead of only non-perishable foods via the local food banks.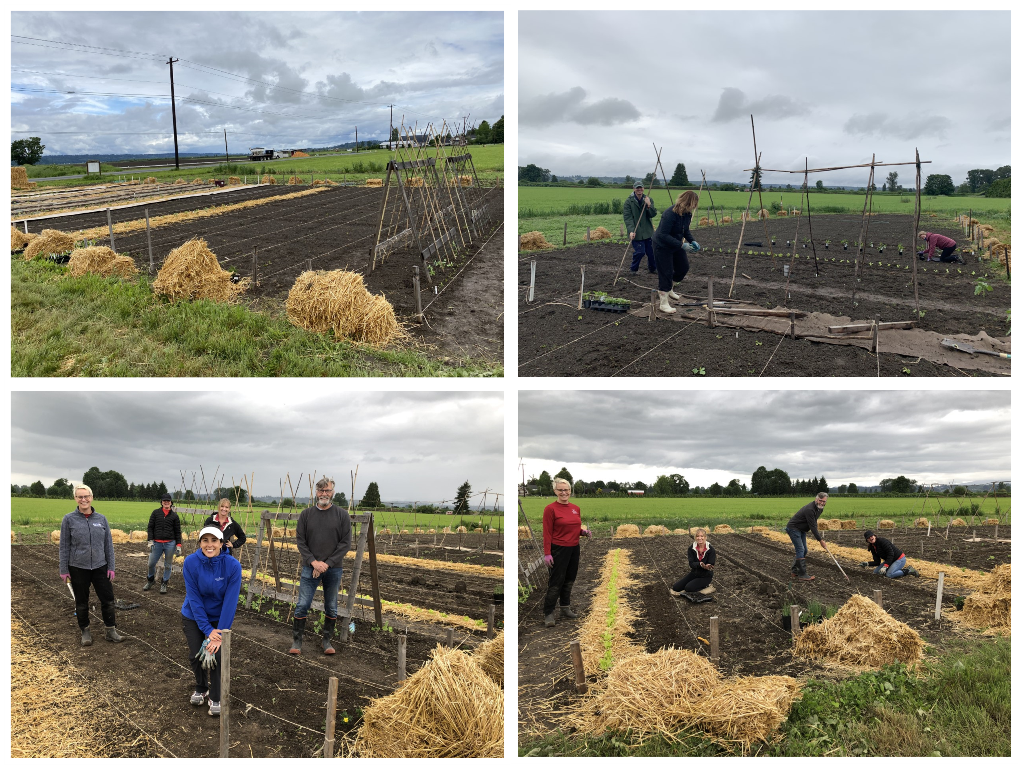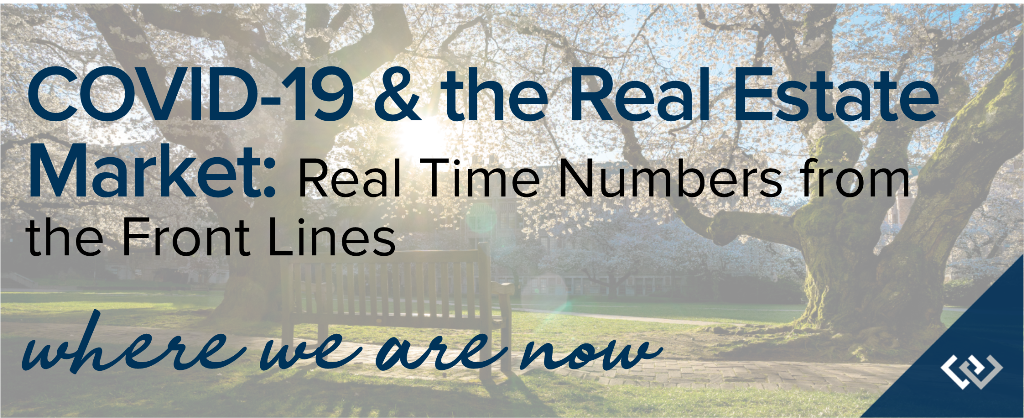 There have been a lot of questions that I have encountered about the stability of the housing market due to the global health crisis of COVID-19. I have kept close track of the statistics and daily activity in our market in order to help keep my clients well informed. Inventory levels remain very tight and buyer demand has started to return since the Stay Home Orders were put in place.
Interest rates are at the lowest point they have ever been, providing amazing opportunities for both buyers and sellers. Interest rates continue to fuel buyer demand and create an audience for home sellers. Recently, rates were as low as 3.33%, which is historic.
Below is a chart that shows the amount of weekly pending sales in 2020 in relation to the weekly pending sales during the same week in 2019.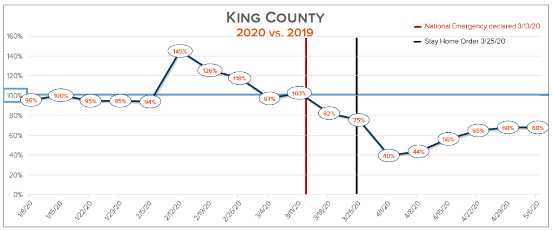 In King County, you can see that we started the year off with activity similar to the robust year of 2019. In February 2020, there were more sales, but that was due to "Snowmageddon" in February 2019. March 2020 started off in concurrence with 2019, but once the Stay Home Orders were put in place there was a dramatic and expected drop in pending sales activity.
When the Stay at Home Orders were first put in place, showings were not allowed, causing a legitimate pause in transactions. The following week, the orders were adjusted to allow for showings and since then the amount of pending sales has increased each week. Protocols for showings include only two people in the home at one time, by appointment only, while practicing 6-foot social distancing.
These protocols, along with virtual showings and many different digital tools using video, have helped buyers and sellers safely come together in transactions. Agents are getting creative in order to best serve their buyers and sellers during this unique time. This has helped quell demand brought on by interest rates and the many industries still thriving despite recent unemployment numbers. See this video from Matthew Gardner regarding the latest unemployment report and his forecast.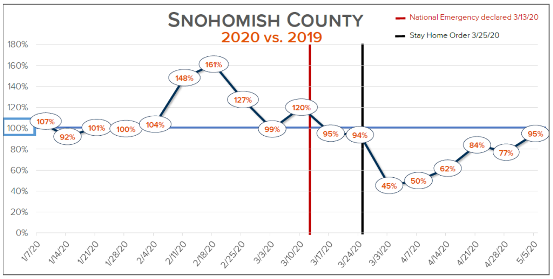 Snohomish County followed the same initial pattern as King County, but has seen a quicker return to 2019 sales levels. This is due in part to the more affordable price points in Snohomish County compared to King. In fact, the days on market for closed sales in April 2020 were quicker by 34% at 21 days, and the list-to-sale price ratio was up 1% to 101% over April 2019. Additionally, the median price is up 3% complete year-over-year. In King County, the median price was up 1% complete year-over-year and days on market quicker by 41% at 17 days, and a flat list-to-sale price ratio of 101%.
Tight inventory started in January and continued due to sellers holding off coming to market amid COVID-19. Available inventory is currently not meeting the buyer demand in the market, especially in the lower to middle price ranges. The higher price points have been affected by the increased cost to obtain a jumbo loan, but are still seeing movement. We anticipate more homes coming to the market as we enter into the different phases Washington State has planned to reopen the economy and remain as safe as possible.
For some, now is the right time to sell, and for some it will be later down the road. The timing, safety, and comfort all need to be assessed along with the market data. What I'm pleased to report is that our market is not crashing. In fact, it is adapting! We will most likely find a balance as we head into the remainder of Q2 and start Q3. Many jobs are set to return as the phases unfold. Unlike the 2008 Great Recession, this is a health crisis, not a housing crisis; see this video from Matthew Gardner on this topic. The numbers are telling that story and so is the recent activity.
I strive for excellence when it comes to educating my clients, especially during these historic times that have created uncertainty. I am committed to providing accurate data and real-time information. Please reach out if you'd like to discuss this information and how it relates to your investment and lifestyle. It is simply my goal to help keep you informed and empower strong decisions. Be well!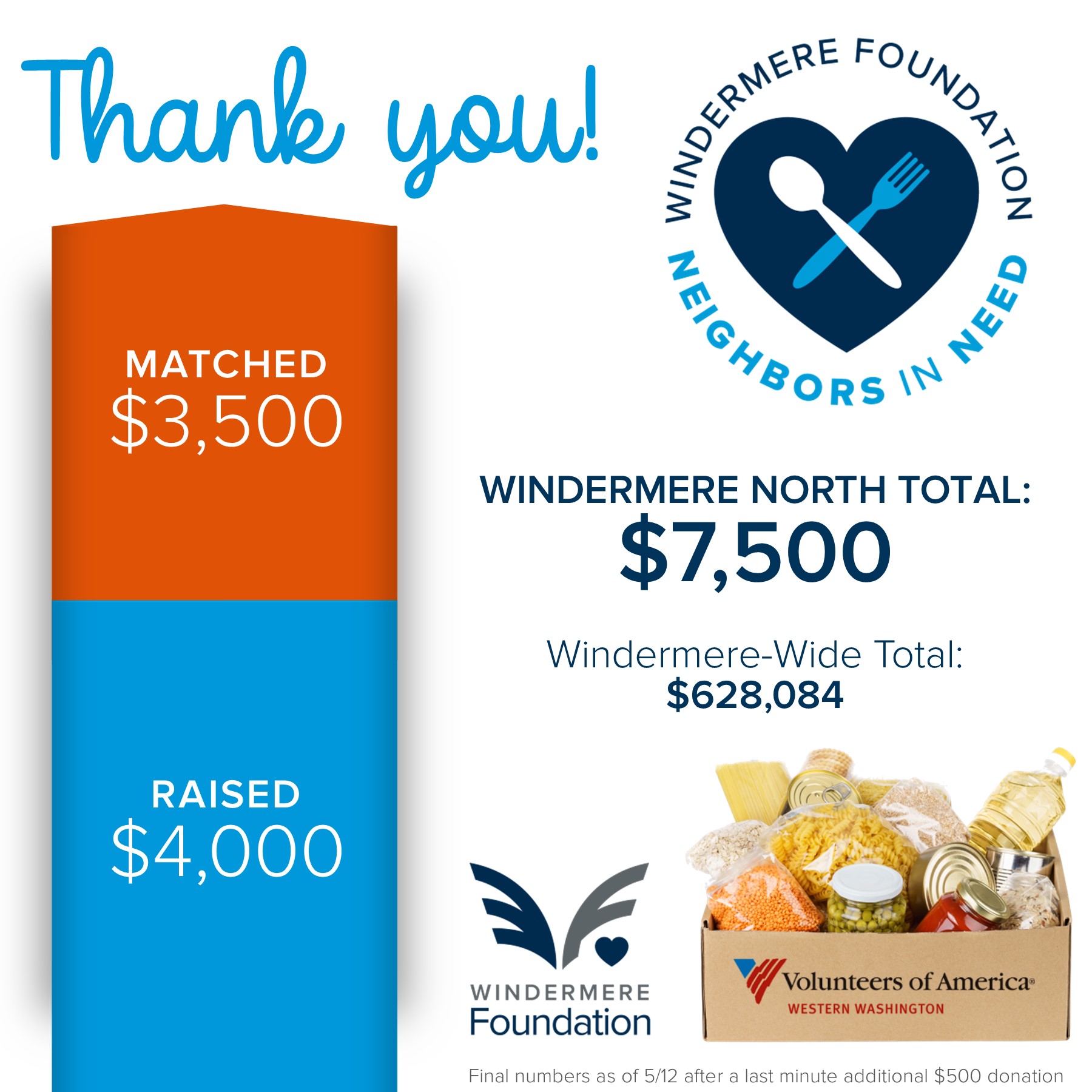 We couldn't have done it without you! Thanks to your generosity, we have surpassed our fundraising goal to benefit local food banks. The Windermere Foundation is matching every dollar up to $3,500, so we will be able to give a total of $7,500 to help feed our neighbors in need.
A portion of this money will go towards buying vegetable starts for the Martha Perry Veggie Garden, which will provide thousands of pounds of fresh produce to local food banks through the summer. Our office will soon get to work helping plant those starts along with the Snohomish Garden Club. We will be in small groups practicing proper social distancing over the course of several days in order to efficiently and safely get this acre of land planted. The rest of the funds will go to the Volunteers of America, who will stretch every dollar to its fullest extent throughout many food banks and food pantries across the county.
This is a portion of a larger fundraiser throughout the Windermere network. The funds are still being counted, but the total amount being given to local food banks is currently over $600,000!
Thank you!